2016 Writing Contest updates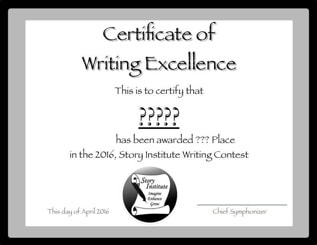 We had a few questions on the writing contest:
Does the work have to be factual or based on a memoir? The writer can choose the theme of his or her work. We would like to see works align with the theme, but understand that the muse may not be favorable to that topic.
Will there be prizes? Yes, we have a grand prize along with First, Second, and Third awards as well. They range from a $100 gift card to Amazon or Barnes and Noble to a copy of the publication in which your work appears.
Will other prizes be awarded before and after the contest? Yes, we may randomly run giveaways to writers who have sent us their work. So, enter early and enter often. There are no limits to the amount of times you can enter.
Enter your work today!

© 2017
Story Institute, LLC - John E. Murray, III & Teri A. Murray
Disclosure: At Story Institute, we receive compensation through iTunes, Amazon, HostMonster, and Google affiliate programs by linking to products. We are independently owned and share only our personal opinions.